24-Hour Emergency Tree Care Services in Kansas City
24-Hour Emergency Tree Care
Cartwright Tree Care provides a 24-hour emergency tree care response team!
Our professional and experienced arbor techs can assess the damage to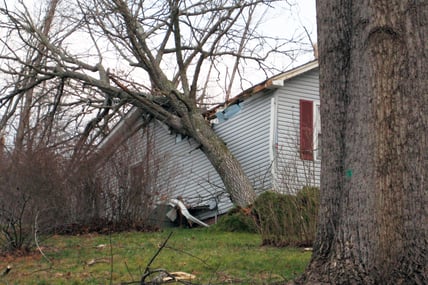 your trees. After a proper assessment they will remove storm damaged limbs and debris from your home and property while working with your insurance company.
Cartwright Tree Care specializes in storm damage cleanup. We have responded to nationwide calls for cleanup after major weather catastrophes. Our 24-Hour emergency tree care service team in Kansas City has been together for over 10 years.
Quick response time, expertise in disaster situations, and a genuine "We Care" attitude to help homeowners, businesses, and municipalities in times of distress.
When storms occur our 24-Hour emergency tree care response teams in Kansas City are put on alert. They are ready and available to relieve you of the damage caused by falling limbs and debris onto houses, cars, and driveways.
We will provide you with expert diagnosis of damage to trees and determine the best most cost efficient treatment options available to restore your tree's health.